Since 2008 i've been shooting weddings and gathered a wealth of information along the way. Here, I guide you through a typical wedding day, chronologically, giving tips and advice to create the most spectacularly photogenic wedding. This in turn helps you help me capture your day in my fine-art style. Most of the advice should be free to implement; ie. it shouldn't cost you much more expense, if any, to plan and book your wedding in this way but it will make the finances you are already investing in your wedding, work that little bit harder for you. Every step of the way on your wedding journey, I am here to advise you any way I can. If there's something you're trying to achieve but you can't find a specific supplier or product, or you can't think how an idea you have might work, I can help so please, drop me an email!
Prep Locations
The space in which you are getting ready is where your wedding day story begins. Choose somewhere light, bright and clutter-free. Windows don't necesarilly have to be large but light furnishings are key to having a quality of light. A rich red carpet or green sofa, for instance, will cast that colour onto your skin and clothes and isn't an easy fix in Photoshop. If you're prepping in a house, maybe the lounge is a better choice than a bedroom. Consider renting a house or flat where all your attendants can stay the night before. This often works out cheaper than several hotel rooms which can be quite dark and unforgiving.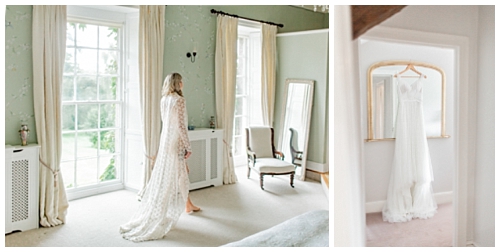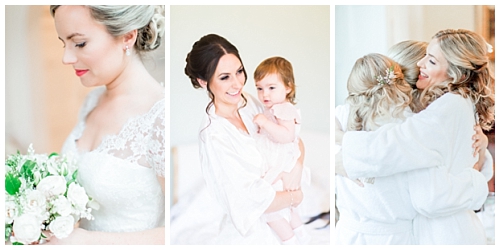 Prep Coordination
Think about styling the prep session similarly to the rest of the day; if you're looking into having attendants in matching or coordinating dresses and  suits, a similar approach to the prep makes for consistent styling throughout the day. When you're all getting ready in the morning, consider asking everyone to bring along matching lounge-wear or you may include matching robes into your budget. Although I won't be making a point of photographing people before they are dressed, if I do capture someone in the background or during a candid moment, better that they're wearing a plain robe than miss-match pyjamas.
Prep Detailing
The prep time is an important point for me to be shooting the details that set the tone for the day. I aim to capture your dress or suit, shoes, bouquets or buttonholes and any perfume, jewellery and other accessories. I can also include heirlooms or special items (gifts, books, you name it!). Have these ready in a space away from the main preparations so that I can easily access them. Ask your florist for a few extra stems which I can use in these photographs (most florists understand this requirement). Bring any small props you think may work (like this antique ring box and glass box). I will also provide additional styling tools.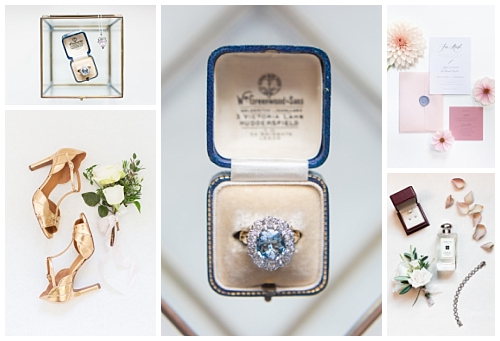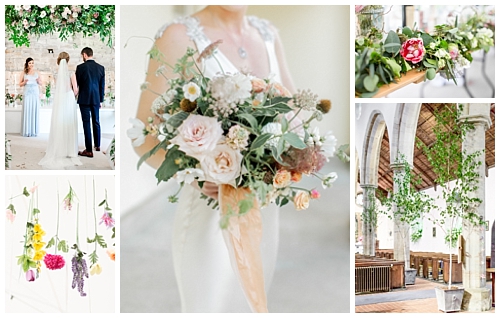 Deck The Halls!
Couples often say to me "we're not going to decorate much because our venue is beautiful and we don't really need to add anything". Now, this is a generic guide and it's possible that I've a not yet seen your venue. Generally, however, while the structures, walls and landscaping may be pretty to look at, once you fill your venue with guests, more detailed decor is needed to convey the styling you're dreaming of. Due to nature of camera angles (and lenses) and my photographic eye, it's worth looking at particularly bare areas and deciding whether there's something that can accentuate the space. Lets go take a look at the venue together or even have a few conversations. I promise extra decor doesn't have to take much from your budget – sometimes just small tweaks to existing ideas is enough. In the photographs here, a beam is adorned to completely transform the ceremony. Single stems hang high in a marquee to add colour. A bouquet includes inexpensive foliage to create a large display. A wooden table is adorned with a fresh garland and the bride and groom bought trees for their new garden, first using them to line the aisle! Displays can be used twice; once in the ceremony, then swiftly movedto the reception area. Venue staff are often on hand to do this or entrust a friend with the task if your venues are separate.
Supplies and Suppliers
It's entirely possible that you've never planned a wedding before. If you have, perhaps it was a while ago. The thing with planning wedding, as with everything, is that there are many ways to skin a rabbit. This section requires a few analogies. So; if you buy a box of chocolates from a supermarket, they're almost certainly relatively generic; perhaps they taste satisfactory because you've never tried the finest chocolatier-made box of chocolates – the fact is, they probably aren't the best chocolates you can buy. The same applies to clothes. Buy a top that retails at £4.99 and it probably isn't made of the finest materials and probably won't look like a luxury item. Right, so, enough with the analogies. Again, ask your suppliers what's best (and what fits your budget) – ask me – I can recommend suppliers and products. Trust your wedding suppliers (your venue, florist etc.) – you're paying for professional services so it's worth making the most of the professional advice at no extra cost. Style doesn't always cost the earth either and I have a wealth of information to save you money.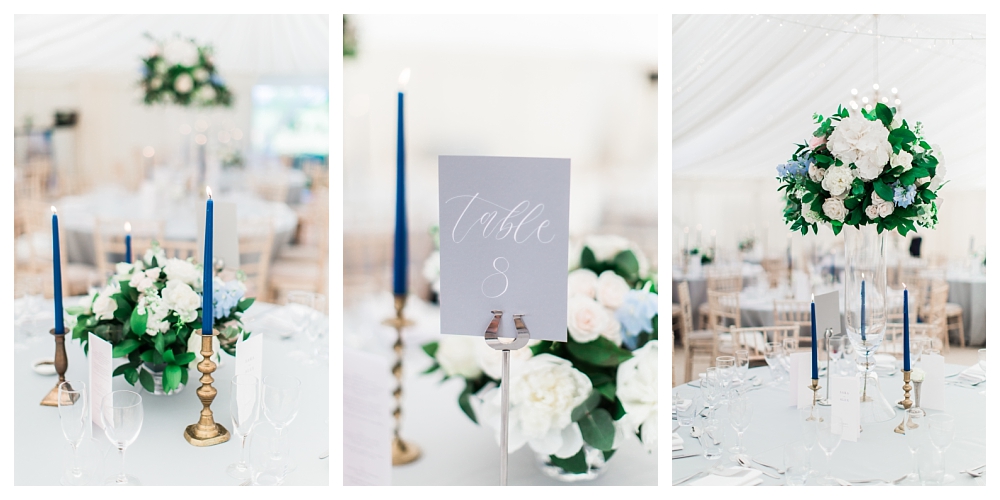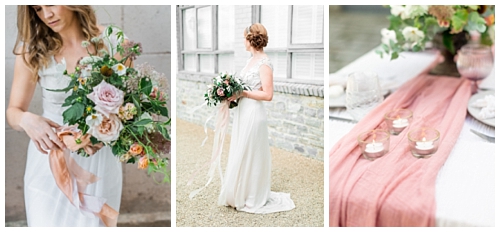 Fabrics, Ribbons & Roses
Leading on from suppliers and supplies, as a photographer I want to talk about fabrics and ribbons because these are the textures that i'll be photographing and something that you can influence. Textures are important in photography. When dress shopping, regardless of budget, be sure to visit a high-end dress boutique first. The staff in these boutiques will have more knowledge about fabrics, cuts and fit for your figure. If you don't purchase there, be sure to take the information you've gained and apply it to dresses in other shops. Remember, not all boxes of chocolates are equal!  Bouquets look amazing with silk ribbons falling from the stems; silk floats and furls and has a natural muted sheen. Satin and other ribbons are heavy (sometimes shiny) and are better for other applications. If you want ribbons and your decor budget is tight, just 2-3 metres of silk on your bouquet will make a big difference. Heavier (satin or grosgrain) ribbons work well hanging from trees or other extensive applications so no need to use silk everywhere. Table runners are a similar conversation; if you like the idea of table runners, silk looks incredible. These can be hired. This look can also be applied to your cake table, bar etc. 
Lighting
Lighting is key to photography. It doesn't really matter how much light you have but you must have some in order to take a picture.  In my opinion and to best suit my style, many light sources are better than one big light. In the photos here, these two venues have multiple light sources and this gives the photographs a depth that would otherwise be missing. Windows and glazed doors are our first light source. Candles offer a romantic second light source (a variety of heights add depth) and can be dotted about tables, window sills etc. I've shot at venues who have initially refused candles but been swayed by seeing how beautiful the space can become.  These were rare occurrences and most venues will allow candles. Fairy light canopies/curtains and lighting hire companies are other options to explore.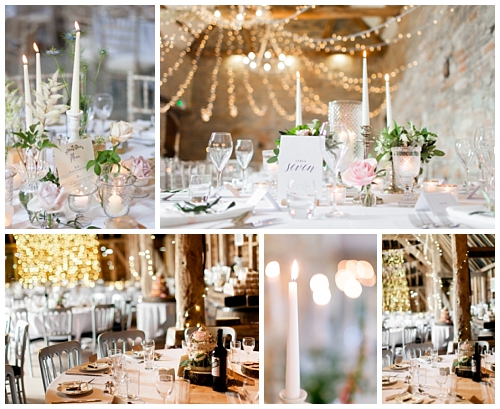 The Wedding Party
Your wedding party have jobs to do. Those might be to give you away, to help with your attire, to make you feel calmer. I also have a job for them but my job is easier and should help make their day more enjoyable. I don't want your wedding party to stop what they're doing when they see my camera (and you don't want them to either) – if you let all your wedding party members know why you've hired me and what you love about my work, they will better understand their role in your wedding photography. Indeed, you want all your guests to do the same but it's harder for you to tell them all. From experience, wedding guests follow the lead of the wedding party so if you tell your immediate family and your bridesmaids, best men and ushers that the the photographer wants to be ignored and explain why you love my work, then you can be sure that your photographs will be natural and candid and documentary. Of course, I'll also ask them to join us for group photos and there'll be times when I may want certain people for other photographs but I will let those people know at that time so you can all relax together and enjoy the day.
Don't forget the dark
Unless your wedding is taking place during May, June or July, you can guarantee that in the UK, you and your wedding guests will be partying after dark. Consider this when planning the events of the day and spaces within your venue. For your first dance, talk to your band or DJ about lighting. If they can provide just white lighting for the first dance (this is usually not a problem), that's the ideal lighting for me to work with. If not, consider asking them to keep their lights off for the first dance. I bring a video light with me that will illuminate the two of you and I also use flash to create gorgeous first-dance photography. Consider lighting outside spaces with flairs, candles or fairylights. Ask your venue how the outside spaces are lit at night; if they have outside lighting, you may not need to add anything more. If you don't use candles on your tables in the day, you may wish to add these to create atmosphere for guests sitting at the tables during the evening reception. This will then add an extra depth to my evening photography.